Current Offers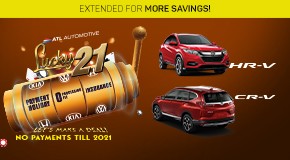 ATL Automotive Lucky 21
Make your own luck with ATL Automotive's Lucky 21 with the purchase any new Honda.
Promotion is run via an exclusive partnership with VMBS. Promotion applies to units currently in stock only. The payment holiday doesn't change the principle cost of the car. Free insurance is valid for one year only. Monthly payments are based on an exclusive rate from VMBS with a 10% deposit. Lucky 21 cannot be combined with any other promotion. Payment holiday is a maximum of 9 months which may be reduced based on the cost of the unit. Taking options such as processing fee and insurance may reduce the length of the payment holiday available. Offer ends July 31, 2020. Other terms & Conditions apply Expires
07/31/2020
All Models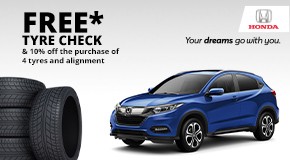 Free Tyre Check
Get a FREE* tyre check along with 10% off the purchase of 4 tyres and alignment services.
Vehicle service is done via appointment only. Prices are subject to change without notice. Conditions apply. Expires
08/31/2020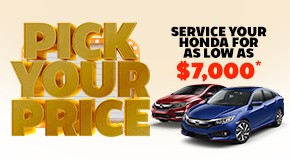 Pick Your Price
Now you can service your Honda for as low as J$7,000* with ATL Automotive.
Prices listed does not include GCT and are subject to change without notice. All vehicles must have an appointment in order to be serviced. Offer valid until August 31, 2020. Terms and conditions apply. WhatsApp bookings can only be done between Monday and Fridays from 8:00am to 5:00pm. Expires
08/31/2020
Forbidden turn.
Please rotate your phone.